More efforts will be taken to develop Oman's industries as part of plans to build a more resilient national economy, say public bodies and private sector companies on the occasion of the country's 30th Industrial Day.
Celebrated every year since the late His Majesty Sultan Qaboos bin Said bin Taimour visited Rusayl Industrial Estate on 9 February 1991, Industry Day has become all the more significant recently:
with the government moving ahead with diversification plans to build a versatile economy and expand away from traditional oil and gas-based source of income, this day serves as a reminder of everyone's commitment towards that objective.
Economic expansion is also one of the foundation stones of Oman's Vision 2040 project, and underlined by the Tanfeedh programme, which was designed to explore expansion into five areas of high potential.
Manufacturing is one of them, with the others being agriculture and fisheries, mining and energy, tourism, and transportation and logistics.
"Manufacturing contributed OMR 3 billion to our gross GDP by the end of 2019, accounting for 9.5 percent of our OMR 29.35 billion GDP," said Dr Saleh bin Saeed Masin, the Undersecretary for Trade and Industry, at the Ministry of Commerce, Industry and Investment Promotion.

"Due to the importance of the industrial sector as one of the contributors of Oman's diversification policies, Oman Vision 2040 has set a target of increasing the economic contribution from non-oil sectors to 91.6 percent of our GDP by then," he added. "We need to harness all of our potential to achieve progress in this direction."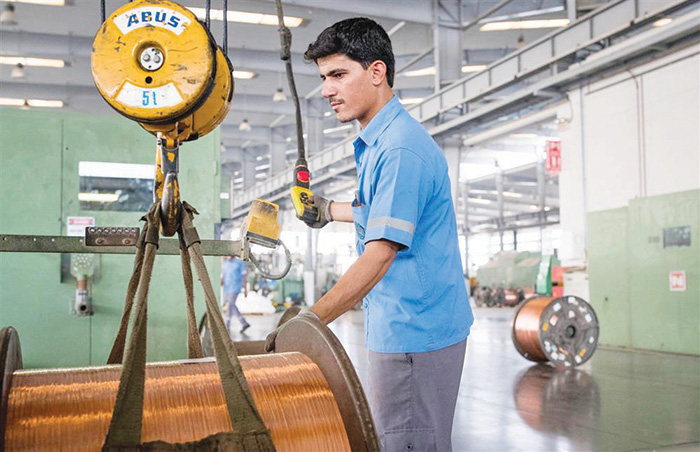 Equally important to developing the national economy is providing the workforce that will handle the responsibilities and jobs this will bring, and with that in mind, UNICEF is working with government bodies to introduce into school curricula lessons that can be used by students once they enter the workplace.
"With the ministry, we're carrying out a programme called Upshift," said Ted Chaiban, UNICEF's Regional Director for the Middle East and North Africa (MENA). "This is an approach that identified adolescents and young people, and we really want to make sure we just don't identify people from Muscat, or from a certain class of society, but all over Oman.

"We intend to ask them what their ideas are, in terms of jobs, in terms of employment, something they want to create," he added. "How do you help them realise that? How do you teach a 15 or 18 year old to submit a budget, or a profit and loss statement? To submit an idea that you present to financial backers to market it to them?"
Chaiban added, "That idea could be an application on a phone, it could be to provide meals to the port authority and workers, because at noon, when they have a half hour for lunch, if you have a mobile trailer outside, you can make money by actually providing lunches? How do you get young people to think those ideas through, line up some mentors, and maybe secure a bit of seed capital for them to be able to continue those ideas."
Private and state-owned enterprises, many of which are involved in the energy sector, while others have been set up with the intention to diversify and reduce the country's export dependence, have also committed to pushing ahead with manufacturing and industrial expansion. Industry Day is doubly special for Oman LNG, a company that was established on 9 February, 1994, under a Royal Decree issued by the late His Majesty.
"We will continue our drive and commitment towards sustainable development of Oman and its people," added the company. Redha Al Saleh, the chairman of the Oman Chamber of Commerce and Industry, a body which acts as a liaison between the private sector and government, said the country was taking efforts to build a more resilient local economy to help it withstand unpredictable changes with the potential of a regional or global impact.

"High efforts and lofty ambitions are making the impossible a tangible reality," he said. "We are working towards the future by diversifying industries that supply the local market, and through enhancing Omani competitiveness."
A statement from OQ8, a joint venture in oil and gas between Oman Oil Company (OQ) and Kuwait Petroleum, said they would "contribute to the model of progress through our business operations that extend across the value chain. We thank everyone who has contributed to the progress and prosperity our national industry is witnessing today."
The Diwan of Royal Court affairs added that the "progress of national industry continues towards the aims of Oman Vision 2040, which are a reflection of the country's level of ambition."




"Taking Oman to the next level of its ambition and meeting the aspirations of its people across various fields will be the objective of the next phase of development," added Mazoon Dairy. "Thank you to everyone who has contributed to the growth of Oman and advancement of its industry."
---
---
---
Related Articles
The editorial staff of
Oman Today
would like to give all of its readers from Oman and Gulf and the whole world the opportunity to participate actively in the development of the website! If you have something interesting, fun, scandalous - just something worth to be seen from more people. Capture it and
share it in the Oman Today
with a short text.
---
Do you have information you want to reach our readers?
---
You can subscribe to our Facebook, Twitter pages or use our RSS feed channel to always read the most important news about Oman, the Gulf and the world.