Looking for ways to stay occupied and safe at the same time this weekend? While we all understand the importance of shifting gears on weekends due to the pandemic, weekends are no longer how they used to be.
We are mostly in our houses with limited options for entertainment and interaction. Adhering to the COVID-19 safety protocols, here are some easy ways to have safe activities.
1.  Go for beach exercise
People in Oman can now go to the beaches as per the orders of the Supreme Committee but are allowed to do so only when alone along with maintaining social distancing. One must remember that gatherings of two or more people are still prohibited and one can only use the beach for exercise. So if you are tired of walking on the treadmill within the four walls of your home, then visit the beach alone and exercise in the open air. After all there is nothing like exercising in fresh air. While you do that ensure that you are maintaining physical distancing with other beach goers.Ensure that you wear a mask and you carry  a bottle of sanitiser along.
2. 'Eat in' your favourite restaurant meal
In Oman people can now collect takeaway meals and beverages from restaurants after 8pm. So drive to your favourite restaurant, collect your order and enjoy a hearty dinner of your favourite restaurant dishes at home. So this weekend take a cooking break  and also break the myth that restaurant foods are unhealthy. Restaurants in Oman are more than happy to tweak the food according to your taste and nutritional requirements. Consider these healthy options when you're ordering takeaways.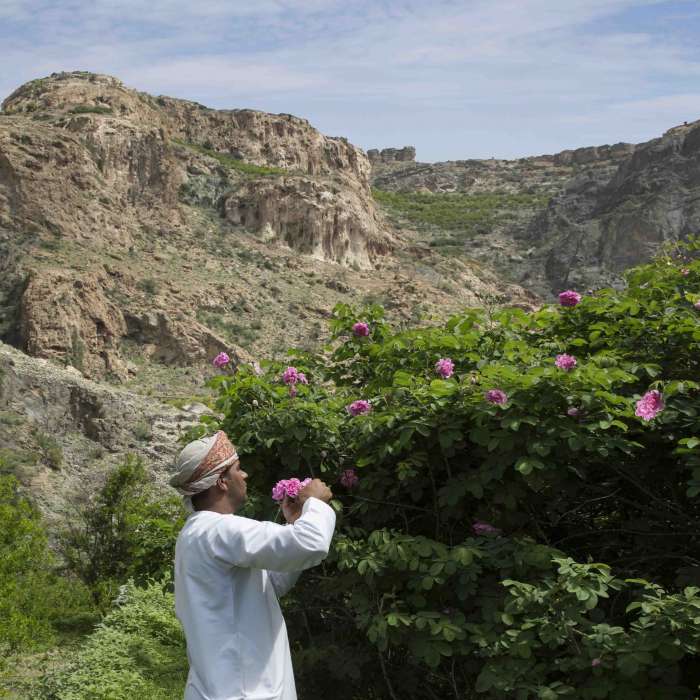 3. Enjoy a rose retreat
Moments of relaxation and tranquillity are in full bloom with the return of the rose season in Jabal Al Akhdar. Take a day trip to Jabal Al Akhdar to enjoy the rose season in the mountains. Anantara Al Jabal Al Akhdar Resort is offering a special Rose Season Package for two, which includes an overnight stay in a room or villa, breakfast at Al Maisan, a 'Rose Water of Al Jabal Al Akhdar' tour and a Rose Rescue Ritual at Anantara Spa. With the 'Rose Water of Jabal Al Akhdar' tour, guests can witness the enchanting bloom and heady aroma of the Damask roses cascading down the mountain slopes. Accompanied by an expert Mountain Guru, embark on a 90-minute guided tour of the famed damask rose farms of Jabal Akhdar and one of the oldest rose distilleries to discover the ancestral technique of extracting varieties of pure rose water from the harvest petals.
4. Celebrate the festival of colours
It is that time of the year when people splash in colours to celebrate the Indian festival, Holi. However, due to the pandemic while one cannot play colours with family and friends, it certainly cannot mar the spirit. And what could be more exciting than making your favourite holi sweets at home and enjoy the festival in high spirits. Relish them with your family and don't forget to wish your loved one via video conferencing. And that's not all.You can download some online Holi games and apps wherein people can be spattered with colour, something to keep your Holi spirits high!

5. Watch new film releases in theatres
This week several new movies are releasing in theatres and you will be spoilt for choices. Start with Godzilla vs Kong in which legends collide as these mythic adversaries meet in a spectacular battle for the ages, with the fate of the world hanging in the balance. Kong and his protectors undertake a perilous journey to find his true home, and with them is Jia, a young orphaned girl with whom he has formed a unique and powerful bond. But they unexpectedly find themselves in the path of an enraged Godzilla, cutting a swath of destruction across the globe. The epic clash between the two titans—instigated by unseen forces—is only the beginning of the mystery that lies deep within the core of the Earth. Other not to miss films are Maya The Bee 3: The Golden Orb, Pets United, Retaliation, Nomadland and Haathi Mere Saathi and Saina in Hindi.
6. What's new on Netflix?
Netflix is here with some new additions. Watch Bethany Hamilton: Unstoppable, starring Alana Blanchard, Adam Dirks, Tobias Dirks and Bethany Hamilton. This documentary tells the heartbreaking and utterly inspiring story of Bethany Hamilton. After losing her arm earlier in her life, the athlete went on to become a pro-surfer.Crip Camp: A Disability Revolution is one of Netflix's big documentaries of the year. It is about a summer camp  that was set up for teenagers with disabilities.
---
---
---
Related Articles
The editorial staff of
Oman Today
would like to give all of its readers from Oman and Gulf and the whole world the opportunity to participate actively in the development of the website! If you have something interesting, fun, scandalous - just something worth to be seen from more people. Capture it and
share it in the Oman Today
with a short text.
---
Do you have information you want to reach our readers?
---
You can subscribe to our Facebook, Twitter pages or use our RSS feed channel to always read the most important news about Oman, the Gulf and the world.